Fix Your Home in Highlands Ranch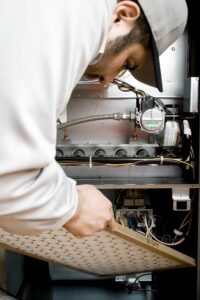 Struggling with problems in your home is no fun! In fact, it can be stressful and produce more anxiety than you might have expected. When you need an HVAC company in Highlands Ranch, or a plumber or an electrician, call us at One Source. We'll be there before long and have things fixed before you know it. Stop worrying and get that problem handled today!
Air Conditioner Repair
If your air conditioner breaks, there's no doubt about it: you need air conditioner repair in Highlands Ranch. You won't want to wait too long, either, because it gets hot out there! When you call us at One Source, we'll get your A/C repair in Highlands Ranch completed as soon as possible. We'll test it all before we leave, too, just to make sure it's working well and you're completely satisfied with the job we've done.
Furnace Repair
Winters are cold in Colorado, so furnace repair in Highlands Ranch is just as important as A/C repair. It may be more important, in fact, because you won't just get uncomfortable in the winter. Your pipes can freeze and cause a lot of damage to your home. When you need furnace repair in Highlands Ranch, call One Source to work with the best.
Heat Pump Repair
It may not strictly be an HVAC repair in Highlands Ranch, but we'll work on your heat pump, too. If you need heat pump repair, we'll be there for you, figuring out what is wrong and repairing it as soon as we can. We are your heat pump experts, so why would you call anyone else?
A/C and Furnace Tuneups
An air conditioner and furnace tuneup in Highlands Ranch can help your entire HVAC system run more efficiently. We'll make sure we check the entire system visually, change out your filters, clean out air intakes and other places where dust and debris collect, and test each component of the system. If our A/C or furnace tuneup in Highlands Ranch reveals a problem, we'll take care of it for you so you can rely on your system all year long.
Plumbing
Stop worrying about that plumbing repair in Highlands Ranch and call One Source. Your plumber in Highlands Ranch will be there fast! He or she will fix your problem and get things stabilized so you can stop worrying and start living life to the fullest again. There's no problem too big or too small for our trained team, so call today and get your home fixed soon.
Electricity
It doesn't matter why you need an electrician in Highlands Ranch! One Source will come to you no matter what and help you fix your home. We'll repair outlets, switches, fuses, circuits, and more.
Stop worrying and don't panic! One Source is here for all of your home's needs in Highlands Ranch. Call today so you can watch your anxiety drift away soon. Let us handle the stress so you don't have to!