Parker Air Conditioner and Furnace Repair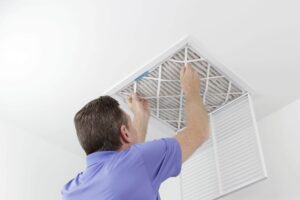 When you're sick and tired of living with problems at home in Parker or you have one that's too big to let wait any longer, call us at One Source. We'll get to you fast, figure out what's going on, and get you the solution you need to keep your home in great condition and continue to love living there. Stop fretting and call us today. We're your HVAC company in Parker and we work on plumbing and electrical systems, too!
Air Conditioner Repair
Parker gets hot in the summer and you need your A/C working. If it's not keeping you cool or it won't turn on at all, call us for A/C repair in Parker. We'll help you get the solutions you need to stay cool this summer. We'll test and troubleshoot your air conditioner until we find the right repair for you. Don't put off air conditioner repair in Parker! You'll be miserable! Call us instead to get the A/C repair in Parker that you need!
Furnace Repair
Winters are also cold in Colorado. If you need furnace repair in Parker, don't put it off! After all, you don't want anyone to get sick and you don't want your pipes to freeze! Instead, call One Source. Before long, we'll have your HVAC repair in Parker completed and you'll be able to get on with your life. Stop worrying about the temperature at home and let One Source fix it for you!
Heat Pump Repair
We can take care of your heat pump repair in Parker, too. We are your comprehensive HVAC company in Parker, so we'll take care of that, too! Before you know it, you'll have the heat you need to live well in Parker once again!
A/C and Furnace Tuneups
Regular air conditioning and furnace tuneup in Parker can make your HVAC system last longer and work more efficiently than ever before. Sure, it's a small investment, but wouldn't that be worth it if it kept your A/C and your furnace running for another couple of years? Call us for your A/C or furnace tuneup in Parker today!
Plumbing
We have expert plumbers on staff, as well as HVAC technicians. We'll make sure you get a great plumber in Parker, no matter the reason for your call. We'll handle your plumbing repair in Parker, make sure your installation is handled properly, and even help you with remodeling projects. Whenever you need a plumber in Parker, One Source will be there for you.
Electricity
Electrical problems can be dangerous and frightening. If you're facing one at home, call in an electrician from One Source to get it fixed for you. We'll take on anything, so there's no worry that your problem is too big or too small for us.
Call One Source whenever you need an expert HVAC technician, plumber, or electrician in Parker. We'll get there fast and get your home fixed soon! Make your appointment today!