Air Conditioning Maintenance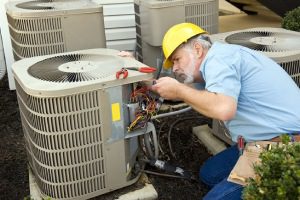 Did you know that a little bit of AC maintenance can do a lot to help your A/C last longer? If you don't want to have to replace it so often, call us at One Source Home Service for air conditioning maintenance in Pueblo, CO . We'll get the job done so you can stay comfortable and save your money for something a whole lot more fun than a new air conditioner.
Benefits of Air Conditioning Maintenance
Maintaining your A/C is just like maintaining your car. There are a few things that need to be checked out and changed out regularly and, in return, it should run better and not cause you the hassle and strain of getting repairs done regularly. Maintaining your A/C helps you:
Save money. Not only will you replace your unit less frequently, but you'll remove dust and other debris that can cause your unit to work harder. We'll clean everything out so the air has a clear path into, through, and out from your A/C. This means that you'll spend less on energy because it will work more efficiently.

Save energy. When your A/C is working more efficiently, it's not using as much energy. That's why your bills go down. If you care about saving the planet, maintaining your A/C is one way to reduce your energy footprint.

Find problems early. Many A/C problems start out small. If you repair them at that point, then they don't have time to damage your unit in more significant ways. We'll check everything so you'll always know if anything needs to be fixed.
Air conditioning maintenance is inexpensive when you compare it to the cost of a new unit. Save yourself money later by investing in maintenance now.
What We Do
When we come out to maintain your air conditioner in Pueblo, we'll start by looking everything over. Then we'll test each component against the manufacturer's specifications, to make sure it's working as it should. We'll replace your filter if you have an extra and the current one is dirty. We'll also clean out all of the places where dust and debris can collect. This makes your air cleaner and helps the unit work more efficiently. Finally, we'll report back to you. If something isn't working, we'll come up with a plan to set it to rights soon.
Are you ready to do some maintenance on your air conditioner in Pueblo, Colorado? Call us at One Source Home Service and get on our schedule soon!