Air Conditioning Replacement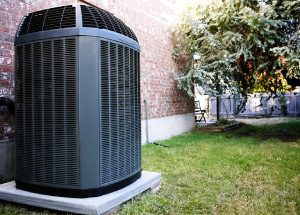 Is this the year for air conditioning replacement in the Pueblo, CO area? You don't have to have lived here very long at all to know that you won't be happy during a hot, humid Pueblo, CO summer without A/C. If yours is broken or you want to replace it for another reason, call us at One Source Home Service. We'll help you get a unit that will work well in your home and get it installed according to the manufacturer's specifications.
Should I Think About Air Conditioning Replacement?
If your air conditioner is broken beyond repair, it's absolutely time to think about replacing it. However, there are other situations where you might want to think about air conditioner replacement, too. Here are some times when our customers often choose air conditioner replacement.
Your A/C is old. Most air conditioners only last 10-20 years, depending on the model, when it was installed, and more. If yours is at the end of its lifespan, you could avoid the stress and strain of a complete breakdown by replacing it now. We can tell you how efficiently it's working, then you can make your choice from there.

You have had a lot of repairs recently. Even if you haven't had to spend a lot to repair your air conditioner, having frequent repairs can indicate that your unit isn't working very well. Your One Source Home Service HVAC technician can give you an opinion on this and, from there, you can decide whether you want a new unit right now or not.

You are facing expensive A/C repairs. If your air conditioner needs quite a bit of work to get it running again, you may decide to replace it instead. This is especially true if the unit is older or if this repair is coming on top of other recent repairs. Sometimes, it's in your financial best interests to just replace it instead.

Your A/C is too small for your home. Some builders try to cut costs by installing the smallest air conditioner possible when they build a home. If yours is too small for your house and it isn't heating well, the best option is to replace it with a larger unit. We can help you make sure you get one that's the right size this time!

You are always hot at home. If your A/C is running well but it's still not cooling your home, a new unit can be your best choice. There may be something wrong with your current unit, it may be too small, or you may want your home cooler than the current unit can get it. No matter the reason, we'll help you find an air conditioner that will actually cool you down.
Call One Source Home Service about your air conditioning replacement in Pueblo, CO today. We'll get on the job and get you a new air conditioner fast, before you have to roast in your home anymore. We can often offer same-day service, to ensure your continued comfort.