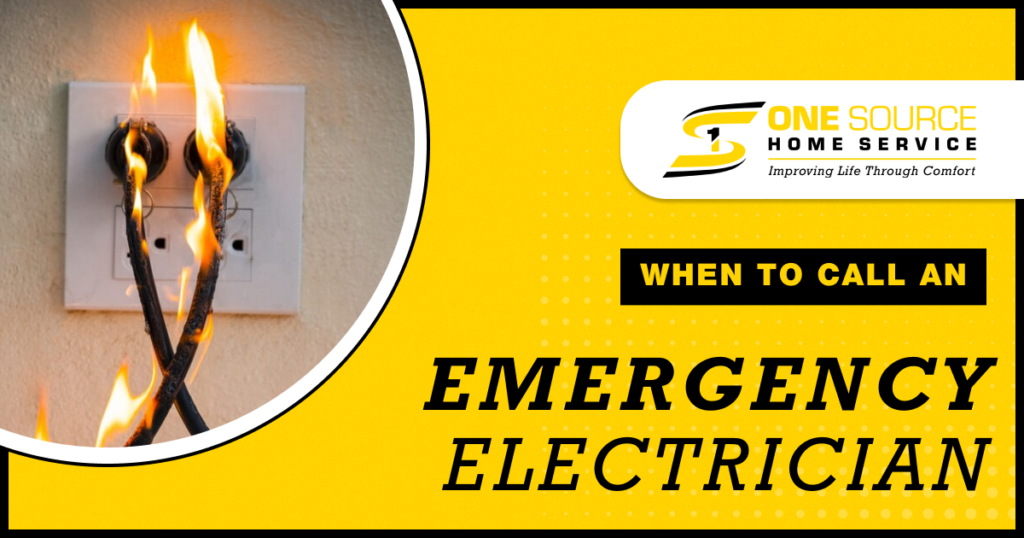 We must admit that essential systems in our homes, like electricity, are easy to take for granted until they are no longer serving our needs. However, we all benefit from the very modern convenience which allows us to live safe, hygienic, and comfortable lives. 
The One Source Home Service electricians in Colorado Springs have decades of experience and have seen almost everything that can go wrong with electricity. Everyone should be aware of these needed repairs to be prepared for such potential issues in their homes. 
When Should I Call an Emergency Electrician?
So what are the most common issues that are considered an electrical emergency? This question is fundamental and should be answered for every new or even seasoned homeowner. One can never be too prepared for electrical disasters; therefore, we present the following scenarios that warrant a call to an emergency electrician in Colorado Springs.
Circuit Breaker Issues
Sometimes the circuit breaker becomes overloaded and begins to trip. This is most common when there is a local power surge that went through recently. Unfortunately, circuit breakers can cause significant damage if their issues are not addressed immediately. We do not recommend putting this repair off too long, as you may sustain substantial damage to your electrical system and some of the key, big-ticket appliances. If this is an issue in your home, call an emergency electrician as soon as possible for help. 
What happens to your AC during a power surge? Check out our blog to find out for yourself. 
Hot Power Outlets
Another reason to call an emergency electrician is when you feel that the power outlets or cords are hot or warm. if you feel a burning sensation on your power, outlets, or cords, we employ you not to ignore it but call an electrician to help you out. The reason being is that it is often the sign of a pending electrical fire in your home. Most of the time, these electrical fires expand quickly and can affect more than just your electricity. It can affect the entire state of your home.
Flickering Lights
Flickering lights are not just a nuisance. They are also a symptom of a more significant problem that can be explained by an overloaded circuit board, faulty wiring, or other dangerous electrical challenges. As a result, it is essential to call the emergency electricians in your area to resolve the problem before a more significant issue is at hand.
Water Damage
Did your home recently survive a flood? Or did your outlets or other electrical components get exposed to too much water? If that is the case, you will need the assistance of an emergency electrician to ensure that you can use those electrical components safely in your home without the proper repairs or inspections; you run the risk of being electrocuted in your home. Electrocution is very preventable in many cases. And it is most commonly a problem for those who don't take the proper precautions. 
Electrocution is very avoidable in many cases. And it is most commonly a problem for those who don't take the proper precautions when using water near their electrical system. after exposing their electrical system to water. 
Burning Smells or Smoke
What are the most immediate problems that must be addressed is when you smell burning smells or smoke coming from your outlets or other parts of the electrical system. This burning may be caused by poor wiring or other electrical misalignments. Regardless of the issue, it is vital to shut down the entire electrical unit and the circuit breaker and contact an emergency electrician. Doing so may help avoid the headaches that come with a fire. 
Please note that most buyers of significant sizes are caused by poor electricity and maintenance. Therefore, we urge you to keep up with a healthy maintenance inspection schedule for your electrical system.
Top Electricians in Colorado Springs
Clearly, there are many problems that can necessitate a visit from an electrician. One Source Home Service operates 24/7 and provides the top-rated electricians in Colorado Springs for your electrical repairs. Contact us today to schedule your visit by calling (719) 427-6642.