Ductwork Services
Homes and buildings in Pueblo & Colorado Springs that rely on a central air conditioning system or forced air heating system use a network of ducts in order to distribute cool or warm air throughout your home. In order for your ductwork to do its job properly, it should be in perfect working conditions at all times. Poorly installed or improperly maintained ductwork can lead to serious problems including energy wastage, health hazards, and uneasiness in your own home. Call us at One Source Home Services for duct sealing, duct replacement, and duct repair in Colorado Springs and surrounding neighborhoods.
REQUEST DUCTWORK SERVICES NOW
Duct Leakage Testing
A duct leakage tester is designed to measure the airtightness of forced air heating, ventilating and air-conditioning (HVAC) ductwork. A duct leakage tester consists of a calibrated fan for measuring an airflow rate and a pressure sensing device to measure the pressure created by the fan flow. Then it calculates the amount of pressure passing through an orifice plate. Based on the results it determines how much leakage there is.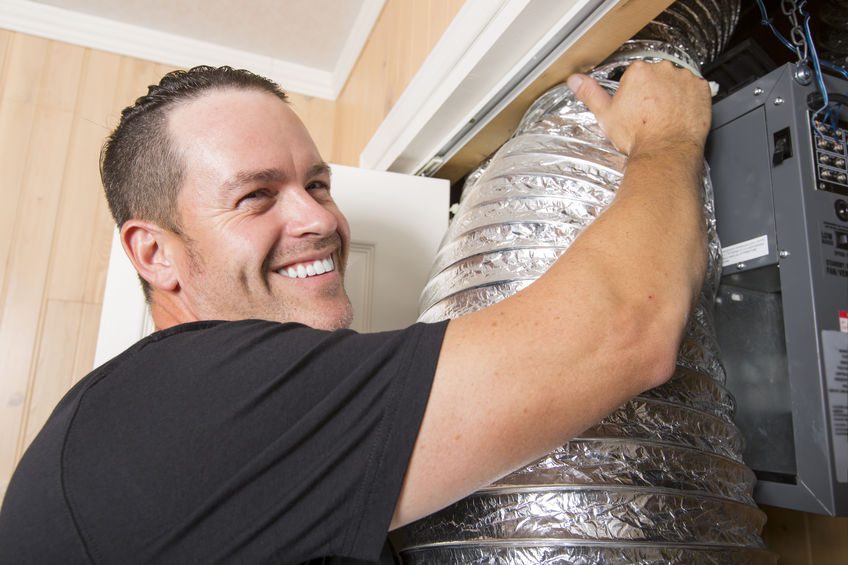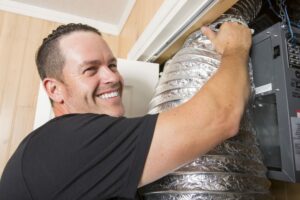 These are the various methods for conducting a duct leakage test:
Using only a blower door (not recommended)
Using a blower door and pressure pan (for diagnostic purposes only)
Using a duct leakage tester and blower door together (most common method)
Using a flow hood
Using a Duct Blaster
Two Kinds of Leaks
There are two kinds of leaks, benign and malignant. The malignant leaks should be taken care of immediately. They're the ones that send conditioned air into unconditioned spaces. Benign leaks are the ones leaking inside the conditioned space. Leakage inside the building enclosure isn't as bad because it's still within the conditioned space.
These two kinds of duct leakages require two different types of tests. The malignant leaks occur in ducts that are outside the conditioned space and you would need an "outside leakage test." The other test is called the "total leakage test."
The Benefits of Duct Sealing
Duct sealing in Colorado Springs has a few benefits. When you put these together, they can change your life for the better.
Improved indoor air quality. Colorado can be a bad place for someone who has allergies. After all, pollen and dust are prevalent here and they can collect in your ducts. Then, they spread around your house every time the heating and air conditioning blow. When you invest in duct leak sealing in Colorado Springs, you close up the holes where these can enter your system. This process can alleviate indoor symptoms and improve air quality for everyone inside.
Lower energy usage. When your ducts have holes and cracks, your comfort systems have to work extra hard to pump air into your home because so much is escaping. You end up using a lot more energy than you need to just to heat and cool your house! Fill in these crack with duct sealing in Colorado Springs and you won't have to use as much energy.
Lower energy bills. When you're not using as much energy, you won't have to pay as much in energy costs. Some homeowners are shocked at how much they save. We'll assess your leakage before we install your Aeroseal duct sealing in Colorado Springs, so you'll know about how much you can plan on saving.
Less strain on your heating and cooling systems. When your heating and cooling systems are losing so much hot and cold air through your ducts, they'll have to work harder than they should to keep you comfortable. This can strain the systems and cause them not to last as long as they otherwise might have. Reduce this strain when you invest in duct leak sealing in Colorado Springs.
The Aeroseal Process
The Aeroseal process is straightforward. We'll come out and test your ducts for leaks, then explain what we've found and how Aeroseal could help. Installing the Aeroseal is easy. We'll close off your duct system, then attach it to the Aeroseal machine. This pumps in a polymer that will bind first to the edges of your holes and cracks and then to itself. Eventually, it seals them up and makes the system airtight. When the process is done, we'll test the system again and show you how much less air you're losing from your ducts. Then we'll leave you to enjoy your comfortable home!
Duct Repair in Colorado Springs
Duct repair become necessary when your heating and air conditioning system feels as if it's slowing down, becoming less effective and resulting in the inability to cool or heat a space that it once did easily. These signs mean that there is a duct problem that needs to be addressed immediately.
It's definitely good to call in a professional for your Colorado Springs duct repair. Common methods for sealing ducts involve commercial HVAC tape and mastic. But if the ducts are really old, leaky and lack adequate insulation, then the best option may be to upgrade to new, insulated flex ducts.
Signs You Need Duct Replacement in Colorado Springs
Not enough heating or cooling – your home isn't getting enough heating or cooling
Hot and cold areas – only certain parts of your home is getting heating and cooling
Efficiency issues – a spike in energy usage without a corresponding increase in usage
Noises – such as creaking, rumbling, rattling, or whistling.
The Benefits Of Updating Your Duct System
Improve Comfort – Sealing and insulating ducts can help with common comfort problems, such as rooms that are too hot in the summer or too cold in the winter.
Enhance Indoor Air Quality – Fumes from household and garden chemicals, insulation particles, and dust can enter your duct system, aggravating asthma and allergy problems.
Promote Safety –With normal use, gas appliances such as water heaters, dryers, and furnaces release combustion gases (such as carbon monoxide) through the venting systems.
Save Money
When you do choose to replace your ducts, don't forget to choose One Source Home Service, where we excel at providing premier service to our customers. If you're in Colorado Springs, CO or in the surrounding area, don't hesitate to call us today so we can get started! We specialize in air sealing, insulation, ductwork and more.
Contact One Source Home Service
Call us at One Source Home Source today if you want to learn more about our services throughout Pueblo & Colorado Springs, CO. Our friendly representatives and home improvement experts will be more than happy to help you get started on improving the condition of your property's ductwork.
REQUEST DUCT SERVICES
Don't Miss Our Holiday Special!
Get Our Total Home Duct Cleaning & Sanitization Package (Regularly $399)
Now ONLY $299
Spins, Sucks & Cleans at 450 RPM
Rotorbrush Each Duct
Remove/Wash Each Grill
Free Deodorizer
Covers up to 6 vents
Ask about our air purifiers and UV Light options