Homes and buildings in Pueblo & Colorado Springs that rely on a central air conditioning system or forced air heating system use a network of ducts in order to distribute cool or warm air throughout your home. In order for your ductwork to do its job properly, it should be in perfect working condition at all times. Poorly installed or improperly maintained ductwork can lead to serious problems including energy waste, health hazards, and uneasiness in your own home. Call us at One Source Home Service for duct sealing, duct replacement, and duct repair in Colorado Springs and surrounding neighborhoods.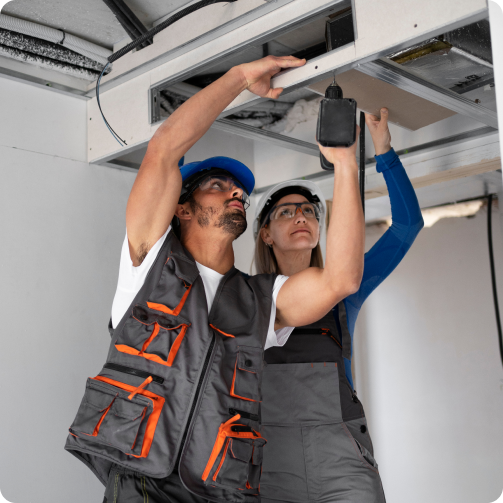 Contact ONE SOURCE HOME SERVICE TODAY
The process begins when you give us a call and speak to one of our world class problem solvers that are available 24/7/365.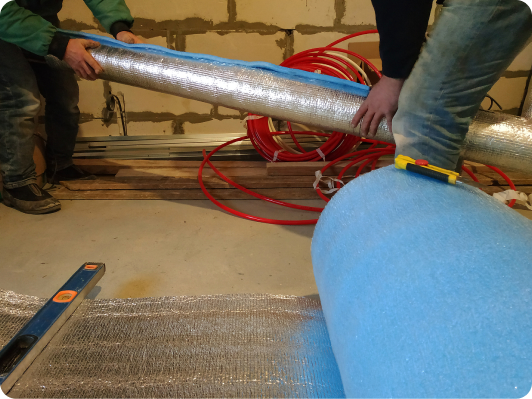 A duct leakage tester is designed to measure the airtightness of forced air heating, ventilating and air-conditioning (HVAC) ductwork. A duct leakage tester consists of a calibrated fan for measuring an airflow rate and a pressure sensing device to measure the pressure created by the fan flow. Then it calculates the amount of pressure passing through an orifice plate. Based on the results it determines how much leakage there is.
These are the various methods for conducting a duct leakage test:
There are two kinds of leaks, benign and malignant. The malignant leaks should be taken care of immediately. They're the ones that send conditioned air into unconditioned spaces. Benign leaks are the ones leaking inside the conditioned space. Leakage inside the building enclosure isn't as bad because it's still within the conditioned space.
These two kinds of duct leakages require two different types of tests. The malignant leaks occur in ducts that are outside the conditioned space and you would need an "outside leakage test." The other test is called the "total leakage test."
The Benefits of Duct Sealing
Duct sealing in Colorado Springs has a few benefits. When you put these together, they can change your life for the better.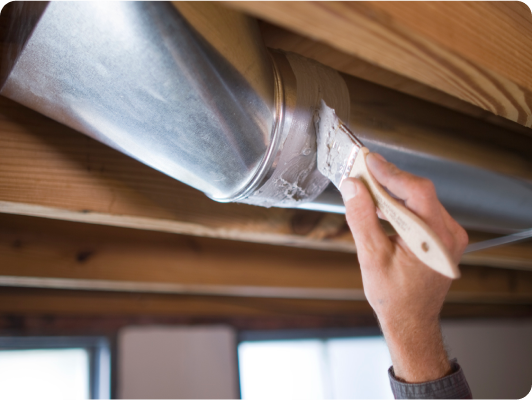 The Aeroseal process is straightforward. We'll come out and test your ducts for leaks, then explain what we've found and how Aeroseal could help. Installing the Aeroseal is easy. We'll close off your duct system, then attach it to the Aeroseal machine. This pumps in a polymer that will bind first to the edges of your holes and cracks and then to itself. Eventually, it seals them up and makes the system airtight. When the process is done, we'll test the system again and show you how much less air you're losing from your ducts. Then we'll leave you to enjoy your comfortable home!
Duct Repair in Colorado Springs
Duct repair become necessary when your heating and air conditioning system feels as if it's slowing down, becoming less effective and resulting in the inability to cool or heat a space that it once did easily. These signs mean that there is a duct problem that needs to be addressed immediately.
It's definitely good to call in a professional for your Colorado Springs duct repair. Common methods for sealing ducts involve commercial HVAC tape and mastic. But if the ducts are really old, leaky and lack adequate insulation, then the best option may be to upgrade to new, insulated flex ducts.
Signs You Need Duct Replacement in Colorado Springs
The Benefits Of Updating Your Duct System
Contact One Source Home Service
Call us at One Source Home Source today if you want to learn more about our services throughout Pueblo & Colorado Springs, CO. Our friendly representatives and home improvement experts will be more than happy to help you get started on improving the condition of your property's ductwork.
Don't Miss Our Holiday Special!
Get Our Total Home Duct Cleaning & Sanitization Package (Regularly $399)
SERVING YOU AT THE HIGHEST LEVEL
Professional, Courteous, Friendly
Very professional, courteous, friendly, and very helpful. They explained a problem thoroughly regarding my AC so that I could make an intelligent and informed decision concerning it. They did an excellent job installing the furnace and we couldn't be happier with it.
One Source Home Service is my go-to company.
Our representative was Justin and you couldn't ask for a more personable, knowledgeable, friendly person to deal with. I had spoken to several other dealers and it was not a hard choice to contract with them to do the job.
They did a great job. Very professional. They were very clean with the worksite and did everything to please
I would use them again in a heart beat!
Very professional and honest. The responded quickly and provided a competitive bid. Once selected they completed the job on time. I would use them again in a heart-beat!!!
Our Colorado Springs service experts will always use shoe covers and floor-protecting tarps to protect your home. It's our highest priority to leave your home in tidy condition.
Before our HVAC or plumbing service team arrives at the appointed time, we will give you a call so you don't have to waste your valuable time waiting or worrying. We are one of the most reliable companies in the industry for home repairs, installations, and maintenance services.
We Value Your Satisfaction
We Value Your Satisfaction
We agree to accept responsibility for your complete customer satisfaction with the materials we use and the workmanship and commercial services we provide. No matter the hour of day or the weather in Colorado Springs, you will find a job well done in your home.
One Source is fully licensed, bonded, and insured for your safety and protection. All team members carry ID cards so you can have peace of mind.