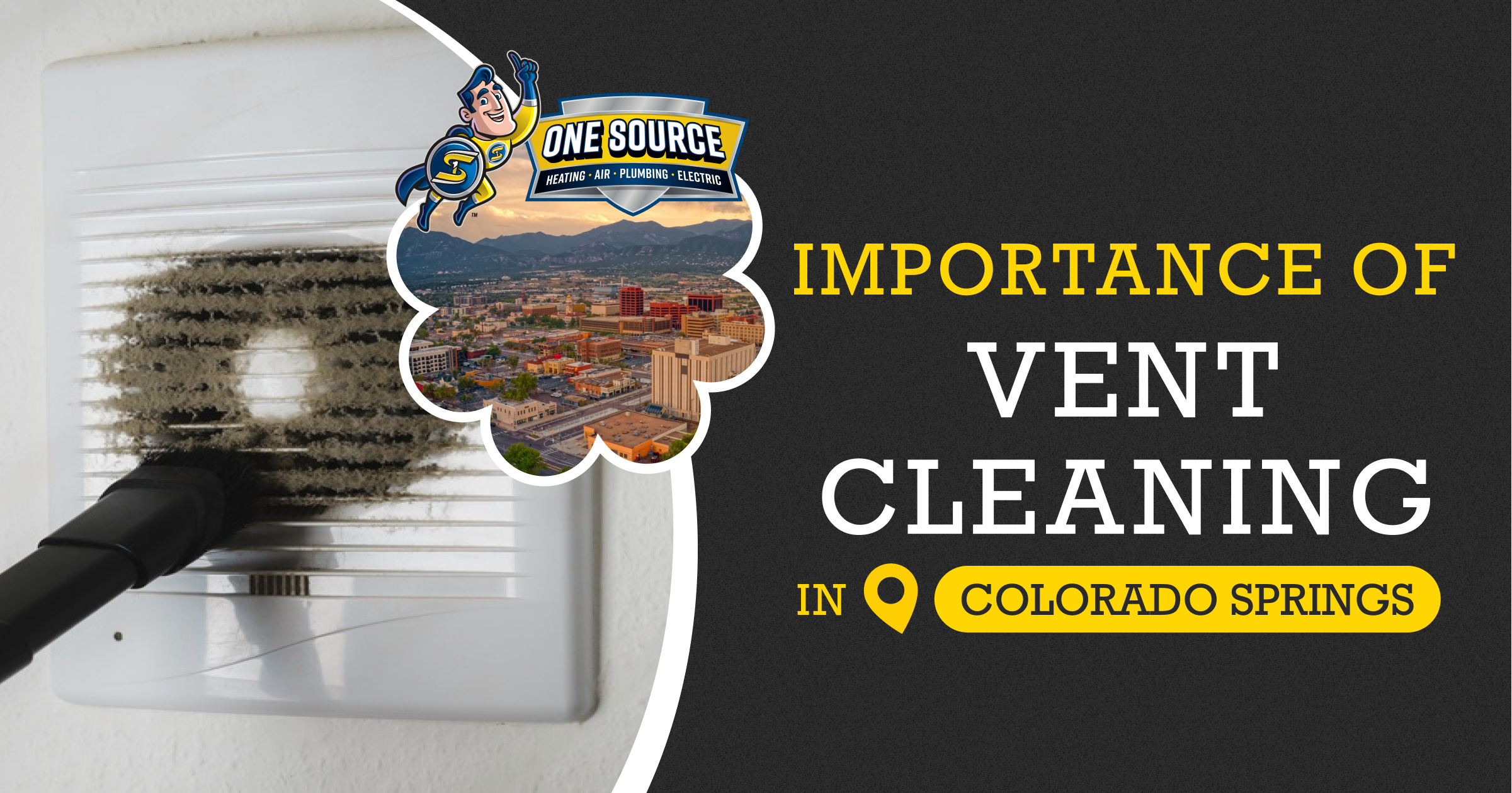 Vents are essential to homes that have air conditioning units, and since almost every home in Colorado Springs is equipped with an AC, discussing their role and maintenance is highly beneficial. For the most part, vents go unnoticed in our day-to-day lives until there is a problem that is directly tied to them. However, at One Source, vents are an everyday concern, and in today's blog, we want to shed some light on the importance of vent cleaning. 
Why Prioritize Vent Cleaning?
For most, vent cleaning may seem like just another task to add to the endless list of chores. Though we understand your exasperation, we are also here to share that this chore is not meaningless and should not be regarded as an option. From keeping your indoor air quality at optimal levels to preventing fire hazards, there are plenty of good reasons why the task of vent cleaning in Colorado Springs should always be at the top of your list of chores. 
Improve or Maintain Indoor Air Quality 
First things first, vent cleaning is essential for keeping your indoor air at the highest quality possible. After all, the air we breathe at home travels through those vents. If they are inundated with dust, debris, allergens, and other pollutants, then that is exactly what you will breathe into your lungs! 
Poor indoor air quality will cause respiratory problems and other health problems that will impact your quality of life. Therefore, taking care of your vents inevitably leads to a healthier life. 
Maintain Energy Efficiency
Dust and debris buildup in vents can restrict the airflow, making the HVAC system work harder to maintain the desired temperature. This added strain can lead to increased energy consumption and higher utility bills. Cleaning vents in Colorado Springs ensures optimal airflow, promoting energy efficiency and cost savings. The energy efficiency levels of your AC are also impacted by the following factors: 
Regular maintenance of the whole AC system

The condition and quality of the ductwork that is attached to the vents

How often the air filters are changed

The levels of refrigerant fluid levels

The condition of the thermostat
Extend the Lifespan of the HVAC
Though the vents seem like a rather small component of the HVAC system, they still play a big role in the way it functions. When dust and debris accumulate in the vents, there is a chance that they will travel into the HVAC unit and affect its other components. Regular vent cleaning in Colorado Springs helps prevent this excessive wear of the unit, allowing you to enjoy the power of the AC to the maximum without having to replace it early. 
Prevent Fire Hazards
When neglected, vents can get very flammable, particularly when they have a high buildup of dust and debris. This is an especially big concern when it comes to dryer vents because lint is very flammable. If not cleaned out regularly, it can catch fire very quickly. However, the HVAC vents can also be a source of concern, especially if there are other flammable objects nearby, such as matches, candles, and lighters. 
Eliminate Odors
Dust and debris in vents can contribute to musty or stale odors circulating throughout the house. Cleaning the vents can eliminate these unpleasant odors, making the indoor environment more pleasant and inviting. If your home recently had a problem with mold infestation, it is highly recommended that you clean not only the vents but also the ductwork. Doing so will ensure a healthy environment and will eliminate mold permanently. 
Stay Compliant with Health and Safety Standards
Regular vent cleaning in Colorado Springs means that your home will be up to par with all the health and safety standards. This will help you take care of your home and loved ones better and maintain those HVAC warranties and even your homeowner's insurance policy. Clearly, this chore is not something you want to overlook. 
Quality HVAC Services for Your Home! 
Are you ready to clean your vents in Colorado Springs? If it's been a while since you've done so, perhaps it is worth hiring a pro for a deep, high-quality cleaning service. One Source Home Service is the home for all of your HVAC services, and we are just a phone call away. Give us a call today to set up your HVAC service.