Water Heaters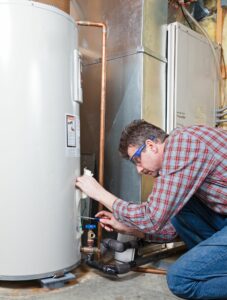 Imagine it…you wake up, you stumble into the shower, you turn it and…you wait. Maybe you wait and wait and wait, but your hot water never comes on. It's easy to feel frustrated and overwhelmed when your hot water heater is broken and even easier to Google "How to fix my water heater." However, the best solution is to call in a plumber from One Source Home Services.
We are experts in everything having to do with water heaters. From water heater repair in Colorado Springs to water heater installation and replacement, we'll get you what you need so you can get on with your life. Call us today to find out more about how we can help you with your water heater.
Water Heater Repair
When your water heater is broken, call in the pros to get it fixed. We'll take a look at everything, then let you know what it will take to do your water heater repair in Colorado Springs. Before long, you'll have the hot water you need.
You can always call us when your water heater stops working entirely or after you've looked up "How to fix my water heater" and realized you don't want to attempt the repair yourself. However, most water heaters give you signs that they are breaking down before they just stop. Call us when you see these and we may be able to fix your water heater before it dies. Look for:
Unusual sounds coming from your water heater. Clanging and banging indicate a potentially serious issue.
Hot water that seems to disappear faster than it used to.
Hot water that isn't as hot as it should be or as it used to be. Before you call us, though, check to make sure no one bumped the temperature gauge on the outside of the heater itself.
Signs of water (wet or dry) under your water heater. This means your heater has a leak, even if it isn't active all the time.
Water Heater Installation and Replacement
If you're tired of your old water heater or worried that it's on its way out, call us about water heater replacement in Colorado Springs. We'll ask you a few questions about the size of your home, your hot water usage patterns, your preferences on energy efficiency, and more. Then we'll recommend water heaters for your home. Choose one and we'll be out soon to install it perfectly so you have reliable hot water for years to come. We'll get your water heater installation in Colorado Springs completed fast so you aren't without hot water for long!
Contact us today for help with your water heater. Whether yours needs repair or you have questions about whether a tankless water heater might be right for you, we'll help you choose the perfect unit. We'll keep you supplied in the hot water you need so you don't have to worry about it again. Make your appointment with one of our water heater experts today!