We're Hiring!
Thanks for your interest in working at the One Source.
We raise the bar in everything we do. Our purpose is to serve local families at the highest level so they can enjoy safe and comfortable lives.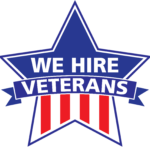 We also pride ourselves on hiring veterans, so if you're a veteran looking to start a new career or continue your current career in the home service industry, please reach out to us by filling out the form below.
If this sounds like a culture you'd like to be a part of, please fill out the form below and we will be in touch.
Thanks!