ELECTRICAL, PLUMBING, HEATING AND COOLING HELP IN
COLORADO SPRINGS
WE EVEN PROVIDE
SAME DAY SERVICE!
Browse the services we have to offer
HEATING
One Source Home Service offers heating services in Colorado Springs, including repair, installation, and maintenance. Call us for professional HVAC services to keep you warm and comfortable.
Cooling
One Source Home Service provides AC repair, maintenance, and replacement in Colorado Springs. Trust our experienced technicians to keep you cool and comfortable. We offer 24/7 emergency service and guarantee satisfaction.
PLUMBING
For plumbing repair in Colorado Springs, trust One Source Home Service. Our experienced technicians can handle any issue promptly, efficiently, and professionally.
Ductwork
One Source Home Service offers duct repair, replacement, and sealing in Pueblo & Colorado Springs for central air and heating systems. Ensure proper air distribution and avoid problems with our expert ductwork services.
Electrical
Need an electrician in Colorado Springs? Call us for fast service from experienced specialists. We handle all electrical issues and have experience with common problems. Contact us for all your electrical needs.
PROUD TO BE A VETERAN OWNED BUSINESS
At One Source, we are proud to be a veteran-owned business.
We work hard to honor the service of all veterans and to honor our clients, who are more than worthy this service. Every day, we bring the same dedication, passion, and focus that we brought to our military service to the work we do for you. In fact, we see the work that we do at One Source as simply another way that we are striving to make your life better, every single day.
Colorado's #1 Home Repair Services
For decades, One Source Home Service has been the go-to repair service for any and all repairs in Colorado Springs. We offer a wide range of top-rated services and the best technicians to get the job done, regardless of what it is in your home. 
Award-Winning Home Services
One Source Home Service is your one-stop shop for all of your home care needs. We provide repair, installation, maintenance, and replacement services for all components to make your home comfortable. 
Certified & Skilled Repair Technicians
The One Source team of technicians is staffed with the highest caliber of certified and highly skilled professionals to provide the repair or installation services your home requires. Whether you have a burst plumbing pipe, a broken air conditioning unit, or an electrical problem, our team covers it all. 
Contact One Source Home Service Today!
Are you in need of home repair services for your home? Don't hesitate to contact our team of experts today. Our team is available 24/7 to provide the services needed to help you back into the safe haven it is for your family. Call us at (719) 532-9000.
Call Now to Redeem Offer!

*Mention this offer to redeem. May not be combined with other offers. No expiration date. Conditions apply. Call for details.
SERVING YOU AT THE HIGHEST LEVEL
Professional, Courteous, Friendly
Very professional, courteous, friendly, and very helpful. They explained a problem thoroughly regarding my AC so that I could make an intelligent and informed decision concerning it. They did an excellent job installing the furnace and we couldn't be happier with it.
One Source Home Service is my go-to company.
Our representative was Justin and you couldn't ask for a more personable, knowledgeable, friendly person to deal with. I had spoken to several other dealers and it was not a hard choice to contract with them to do the job.
They did a great job. Very professional. They were very clean with the worksite and did everything to please
I would use them again in a heart beat!
Very professional and honest. The responded quickly and provided a competitive bid. Once selected they completed the job on time. I would use them again in a heart-beat!!!
Select the date, time and service that you would like to setup an appointment with One Source Home Service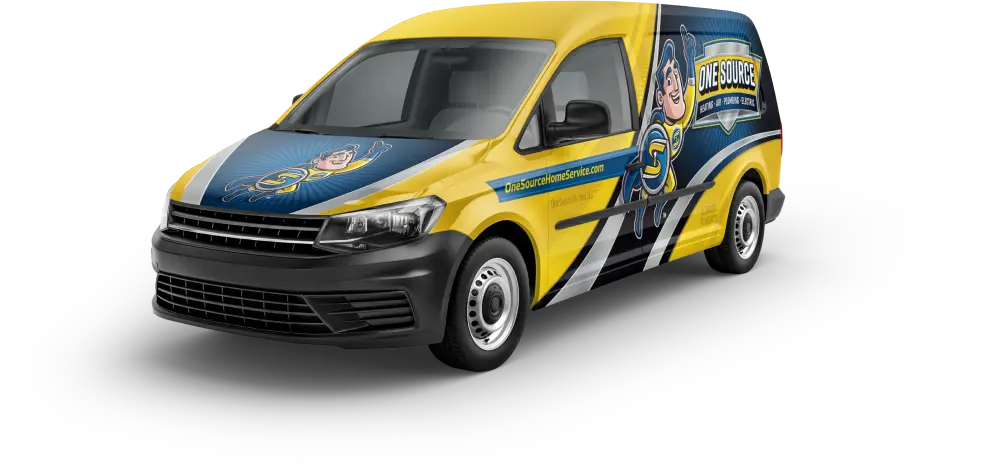 Our service experts will always use shoe covers and floor protecting tarps to protect your home. It's our duty to leave your home in tidy condition.
Before our service expert arrives at the appointed time, we will give you a call so you don't have to waste your valuable time waiting or worrying.
We Value Your Satisfaction
We Value Your Satisfaction
We agree to accept responsibility for your complete satisfaction with the materials we use and workmanship we provide.
One Source is fully licensed, bonded and insured for your safety and protection. All team members carry ID cards so you can have peace of mind.