Heating Contractor in Colorado Springs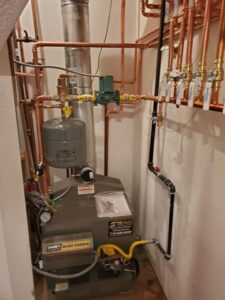 The staff at One Source Home Services can come out to your place in Colorado Springs and handle all of your needs regarding heating services. If you need heating repair in Colorado Springs, heating installation, or anything else, our team can assist you and get it taken care of. Let us be your source for boiler service or furnace service and keep you warmed up and cozy enough inside. To have your HVAC system worked on by a professional, dial our number!
Heating Repair Service
If you are having problems with how the heater works, give us a call us and we can come out to do an inspection. With technicians standing by 24/7, you can receive assistance as soon as you need it. Our staff will examine the system and see what the issue is, and then we can develop a plan to get it fixed in a quick and efficient manner. We have specialized tools to get the appliance working again with ease.
Heating Installations
Our team can also come out and get your heater replaced if it is getting old or has extensive issues or damage. The experts on our staff are experienced in working on the many different kinds of heaters, including furnaces, boilers, and more. We can talk with you to discuss your needs in Colorado Springs and help you to decide which type of heating system is best for your specific situation.
If it's time to invest in new home heating in Colorado Springs, call us for our heating installation services. We'll help you get the best possible furnace or other heat systems for your home by discussing several factors with you. These include:
The size of your home
The number of furnaces you have or want
Whether you've been satisfied with your current heater
How often you turn on the heat
How warm you like to keep your home
Whether saving energy is a priority for you or not
One we have answers to all of these questions, we'll recommend new heaters that come from manufacturers we love to work with. We'll make sure that you get a reliable heater from a company with a great reputation and that we perform your heating installation according to the manufacturer's specifications.
Heating Maintenance
Regular heating maintenance will keep your heater running efficiently and effectively for years to come. We'll make sure that each part is working as it was designed to, then perform any repairs that are necessary. Before long, you'll know that your heater is in the best possible shape to keep you warm this winter.
Our maintenance process differs based on the type of heat system you have. If you call us for furnace service in Colorado Springs, we'll do the following:
Test each component against the manufacturer's specs
Change your filter
Clean out gathered dust and debris
Do a visual inspection of the entire system
Colorado Springs' Top Heating Company
Here at One Source Home Services, we are here to answer calls for help 24 hours a day, 7 days a week. Regardless of what you need done with your heater, our staff can be there soon to get it completed. As one of Colorado Springs' trusted heating companies, with over 30,000 customers served, you can place your confidence in our staff. Get in contact with us today for expert help with heating repairs, installation, or replacement!
FAQ
Does One Source Home Service offer Emergency Heating Services?
Yes! One Source Home Services offers 24/7 emergency heating services. Give our team a call at any time of day or night to get your heating system fixed fast.