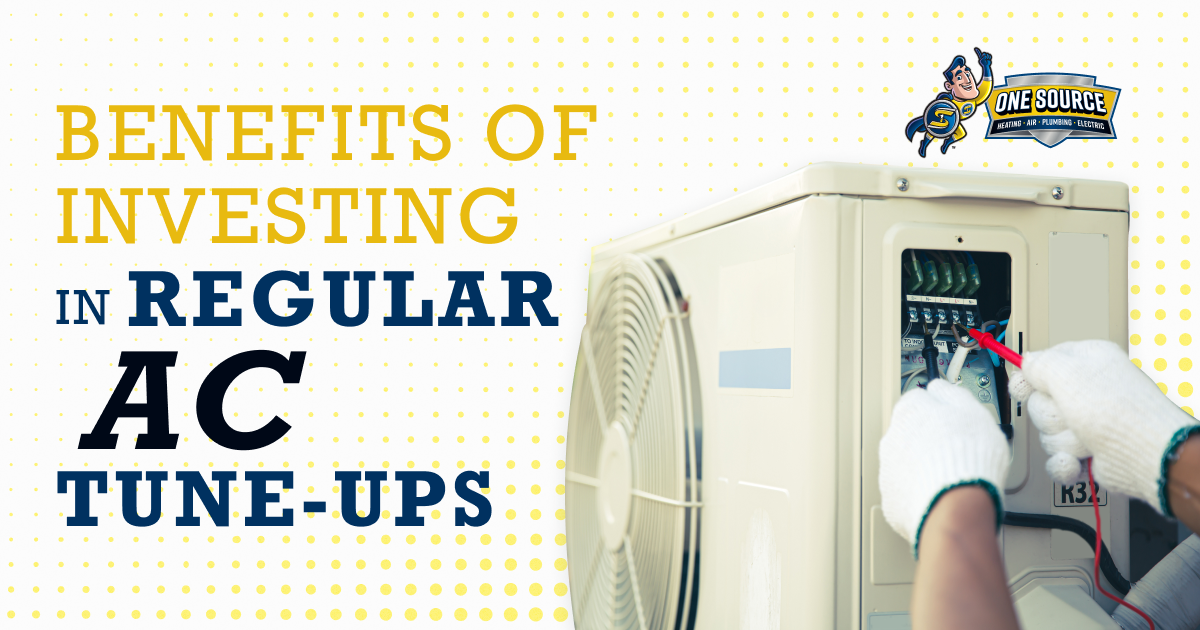 With the different costs that homeowners have to keep up with to maintain their home, they frequently assess the benefits of investing in a particular service such as an AC tune-up. In our efforts to help your decision-making process, we would like to provide you with an overview of the benefits of investing in regular AC maintenance for your home. 
How AC Maintenance Will Help You
Air conditioning maintenance services consist of a set of cleaning and tuning tasks that help enhance and promote the appropriate performance of the unit. Most of these types of services consist of the following actions:
Recharging refrigerant fluid, if needed

Cleaning and lubricating all moving parts

Performing a diagnostic assessment

Making appropriate adjustments and minor repairs, as needed

Help replace the filter, if needed
This service helps accomplish the following benefits for your air conditioning unit:
Improved Energy Efficiency
Clean air filters promote smooth and proper airflow. Properly adjusted parts help the unit perform as it should, cooling the air while consuming minimal energy. As a result, you will pay less on energy bills even if you use the unit more than usual during the summer.
Extended Lifespan
Maintenance services allow the AC tech to inspect the unit and pinpoint any areas of improvement or repair. Upon identifying these areas, the tech can perform those repairs and prevent excessive tearing of the unit, which is a result of the AC operating in disrepair. AC units are designed to last about 15-20 years, and to get the maximum of that lifespan, regular air conditioning maintenance is essential. 
Enhanced Performance and Comfort
AC tune-ups ensure your system operates at its best, delivering optimal cooling performance. The technician will check and calibrate the thermostat, inspect and lubricate moving parts, and test the airflow and refrigerant levels. These adjustments help maintain consistent temperatures, reduce humidity, and provide maximum comfort indoors. With regular maintenance, you'll be far more comfortable in your home throughout the summer months. 
Reduced Repair Costs
During an AC tune-up, the technician is able to catch any minor repairs and fix them. As a result, your AC won't have the chance to break down or develop significant, costly repairs. This is important because the bigger the problem, the more expensive it is to repair. Neglected problems wear on the compressor, which is the most expensive repair. 
Health and Indoor Air Quality
The air conditioning unit directly impacts the quality of your indoor air. Thus, maintaining your air conditioner is maintaining your home's air quality. During the AC tune-up, our technicians will help replace the filter, and cleans the AC coils,  providing a cleaner stream of air throughout the house. 
AC techs also check the unit for leaks of refrigerant fluid or condensation because these issues contribute to mold and mildew development. As we all know, mold is highly toxic and harmful, causing health issues like excessive allergies, asthma, migraines, and even chronic obstructive pulmonary disease (COPD). Maintenance services ensure the unit is free of mold or any events that would cause its development. The end result provides a smooth and clean unit for the whole family to enjoy. 
Warranty Appliance
Air conditioning units are expensive investments that usually come with warranties. Many manufacturers have clauses in their warranties that require regular maintenance in order to uphold the warranty. If you don't maintain the AC, you may void the warranty, which will force you to pay out of pocket for replacements and repairs that it would have covered. 
Schedule Your Air Conditioning Tune-Up
Is your air conditioning unit in need of a tune-up? Don't fall behind; schedule your maintenance service today with One Source Home Service, a team dedicated to keeping your home cool and comfortable. Our highly certified technicians will ensure that your AC is in tip-top shape with our thorough and efficient inspection.