Air Conditioning Service in Calhan
When you need air conditioning services in Calhan, CO, call us at One Source Home Services right away. We'll get an AC service professional to your door ASAP to make sure you get comfortable at home again soon. We'll make sure you're completely happy with the solutions we implement before we leave your house. Our goal is to leave you 100% satisfied in Calhan. Call now!
Air Conditioning Repairs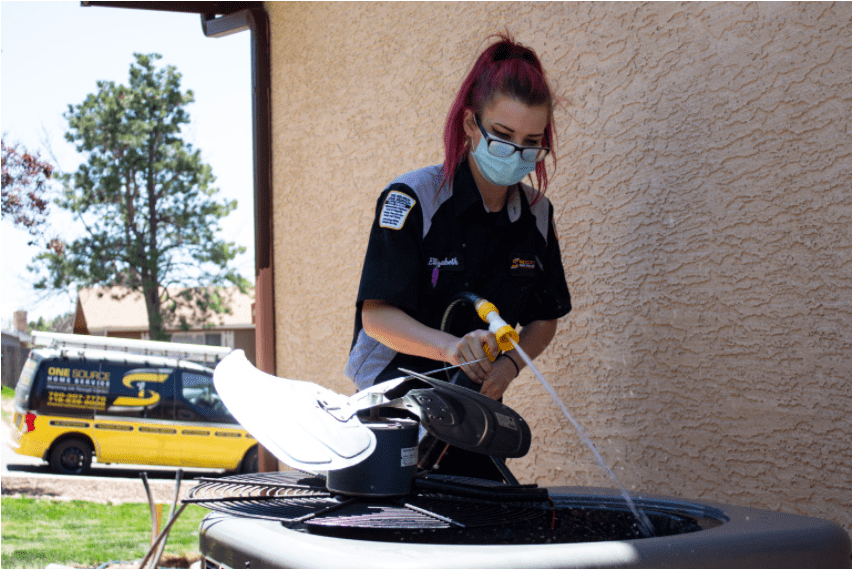 There's no air conditioning repair we won't do! Whenever you need your AC unit serviced, give us a call! We'll fix it all, including:
When your AC won't turn on or off.
When your AC turns on and off but does it so fast that no cooling occurs.
When your AC makes unusual noises.
When your AC stops responding to your thermostat.
When your AC is running up your electrical bills.
When your AC isn't keeping you cool enough, even when it seems to be working just fine.
Air Conditioning Installation
Call in our contractors whenever you need AC replacement. We'll work with you to help you get the very best new air conditioning system for your Calhan property. We base every recommendation on several factors, including:
The size of your house.
Your level of satisfaction with your current air conditioning system.
How often you use your AC.
How cool you like to keep your house.
Any preferences you have for or against energy-saving units.
Every unit that our Calhan AC installation team recommends comes from a reliable, trustworthy manufacturer who we have worked with before. We only recommend the very best, and perform every installation according to manufacturer specifications.
Expert AC Maintenance
Air conditioning maintenance is the easiest way we know about to keep your air conditioner in great shape for many years. Our air conditioning service technicians will come take a look at your HVAC system, doing energy testing as they go. They want to be sure each part of the system is working to your satisfaction. If we find any problems during our maintenance visit, we'll let you know and come up with a plan to get everything fixed ASAP, preferably before you need to rely on the unit again.
Calhan's AC Service Pros
Call in One Source Home Services whenever you need an AC company in Calhan that will work hard for you. We'll find the solutions you need fast, then get them in place as soon as we can so you can get cool at home again. Make your appointment today!