Air Conditioning Services in Cimarron Hills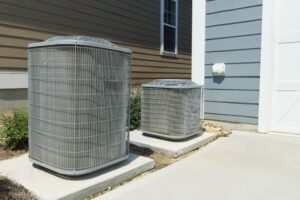 The trusted staff at One Source Home Services can help you out whenever you need your cooling system serviced. We have a team of AC technicians who are skilled, experienced, and who can solve all your problems and concerns. If you are looking for someone to do air conditioning repairs, maintenance, or installation, we are the ones to call. Our experts will handle everything in a professional manner and ensure your property in Cimarron Hills is cooled down. Reach out to us for additional information!
Air Conditioning Repairs
If you are having problems with your air conditioner, reach out to us for assistance. We offer services around-the-clock, so even if you need help in the middle of the night or over the weekend, we can be there. Our air conditioning repair staff will show up on time and get to work finding out what is wrong and figuring out how to get it fixed.
Air Conditioning Maintenance
Our staff in Cimarron Hills can also do all the necessary measures for air conditioning maintenance. It is recommended to have your AC tuned up once a year, so it can be cleaned out, calibrated, and inspected to see if any repairs are needed. Let us take care of all the maintenance so you never have to worry about whether or not your air is going to work.
Air Conditioning Installation
We have technicians on staff who are dedicated to doing air conditioning installations and replacements. Those who are in the market for a new cooling system can have us be the ones to take charge of the operation. Our staff can help you choose a model that is tailored to your needs in Cimarron Hills, then will get it properly put in and connected.
Cimarron Hills' Source for AC Service
The next time you need a professional's help for a situation with your cooling system, call One Source Home Services. As a veteran-owned business with more than 30,000 customers in the area, there is no better choice than our team when you need your AC repaired, maintained, or replaced. Call us to get in touch about scheduling service!