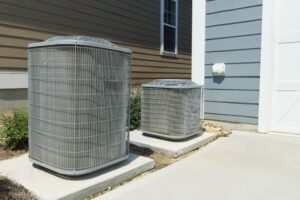 We know that you count on your Colorado Springs air conditioning all summer long. After all, it gets hot here, and you need to stay cool to function well and enjoy those warm days. Did you know that a tune up can help keep your AC running efficiently all summer long? You might think it's a waste of your time and energy, but a simple AC tune up can help you avoid problems and troubleshoot issues before they cause your air conditioner to stop working altogether. Since we know you don't want that, here are a few signs that it's time to give us at One Source Home Service call and get a tech to tune up your air conditioning unit in Colorado Springs.
1.  It's been more than a year since the last tune up.
Air conditioners should be tuned up at least once a year. If you can't remember the last time a technician looked at yours, or you know when it was and it was quite some time ago, it's probably time for a tune up now. Your tech will take a look at the unit and let you know if there's anything that's not working quite right. He'll also perform regular cleaning and maintenance, so your unit will run strong all summer long.
2.  Your AC never turns off.
Ideally, an air conditioner will run for a while, turn off when your home reaches the desired temperature, then turn back on again later, when things warm up again. If your unit is running all the time, or doesn't stay off very long, then it isn't running as well as it should. Give us a call, and we'll come figure out what has gone wrong. It's quite possible that some simple, routine maintenance will get things going again soon.
3.  Your AC blows lukewarm air.
Maybe the air your unit blows starts out really cold, only to get warmer and warmer the longer the unit runs. Or maybe it starts out lukewarm and stays that way. Either way, a unit that isn't blowing really cold, all the time, needs some love and care from a technician. Our techs will come out, perform the required maintenance and cleaning, and see if that takes care of the problem. Many times, all you need is a clean filter or a cleaner unit to make your air colder again.
4.  Your AC is more than 10 years old.
While being older in and of itself doesn't mean that your unit needs a tune up, it does mean that it could benefit more from regular tune ups than newer units could. Since older units usually aren't running as efficiently as newer ones do, cleaning them up and making sure everything is up to the manufacturer's standards can help them cool your home better. It can also help them last longer, both by minimizing wear and tear and by catching problems before they become catastrophic.
When you're ready to have your AC tuned up, give us a call. We'll come out at a convenient time, take a look at your unit, perform any required maintenance, and let you know what we find. We hope to see you soon!