Furnace Installation in Colorado Springs
If you're considering a furnace installation in Colorado Springs, reach out to us at One Source and we'll get our heating experts working on it fast. We'll help you get the best new furnace for you and we know how to install a furnace the right way, too, so you'll have heat you can rely on once we get your new heater connected.
GET INSTALLATION HELP NOW
Do I Need a New Furnace?
Not sure if you need a furnace company in Colorado Springs right now? Here are some signs that it's time to make this important investment.
Your current furnace isn't working and cannot be fixed, or will cost a lot to repair.
Your current furnace is old and at the end of its useful lifespan.
You are too cold at home, even when your furnace is working well.
How to Choose a New Furnace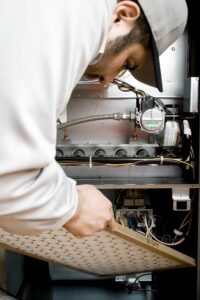 When you call us for a furnace installation in Colorado Springs, we'll consider it our job to get you the best new furnace for your house. We match you with a furnace based on:
How large your home is
How many people live in your house
How often you turn on the heat and, when you do, how warm you like to keep things
How you feel about investing in energy-saving technology
How satisfied you have been with your current heater
Once we've talked to you about these things, we'll get you the perfect new heater for your needs. We'll handle the installation, too, so you won't have to worry about anything.
Colorado Springs' Furnace Installation Experts
Get one of the top heating companies in Colorado Springs on your side when you call us at One Source Home Service today. We'll get you the new furnace you need and get it installed ASAP. Make your furnace installation appointment now so you can stay warm all winter.
REQUEST SERVICES