Your Colorado Springs Furnace Repair People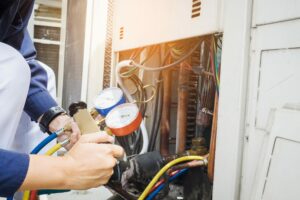 When you need expert help for your furnace repair in Colorado Springs, contact us at One Source Home Service right away. Don't wait because you'll only get colder and more miserable at home. Instead, contact us and get toasty warm again fast!
Our reliable technicians are always happy to help you, no matter what furnace repair you need this winter. Rely on us to be there whenever you need us and to get your repair right the first time!
The Top Signs that You Need Furnace Repair
Did you know that you don't have to wait until your furnace stops heating to call for furnace service? At the first sign that your furnace is not working, call us and say, "Fix my furnace!" We'll get you an appointment with an experienced technician who might even be able to repair your furnace before it dies completely.
Look for the following problems, then give us a call.
Your furnace won't turn on.
Your furnace won't turn off.
Your furnace turns off and on so fast that it can't heat your home. This will leave you cold and will eventually burn out your furnace motor.
Your furnace doesn't seem to respond to temperature changes you make at the thermostat.
Your furnace makes unusual sounds. If this happens, turn it off because something bouncing around in there could damage even more parts.
Your furnace blows cold – or even lukewarm – air. Even if the air is warmer than what's outside, the furnace isn't working as efficiently as it should.
You are cold at home even though your furnace seems to be working normally. If you're too cold, there's a problem. That's the bottom line!
Get Your Furnace Fixed Fast with One Source
When you call us for furnace repair in Colorado Springs, we'll get to your home as soon as we can. After all, we live in the area, too, and we know that you can't live well in the winter around here without reliable heat.
Your furnace service technician will always arrive on time so you don't have to sit around the house wasting your time waiting for us. Once there, he or she will talk to you to gain a full understanding of your furnace problems. Then your tech will start your furnace repair.
As soon as we know what is wrong with your furnace, we'll let you know and work hard to fix it fast. We'll communicate with you throughout the process, so you'll always know what our timetable is, how the repair is going, and what you can expect from us.
When we've fixed your furnace, we'll test it and invite you to test it out, too, because we want to make sure that it is working according to your high standards. If you're not warm enough, we'll keep working until we get it right.
Contact us right away the next time your furnace is not working. Say, "Fix my furnace, please!" and we'll be there soon to get you warm again!