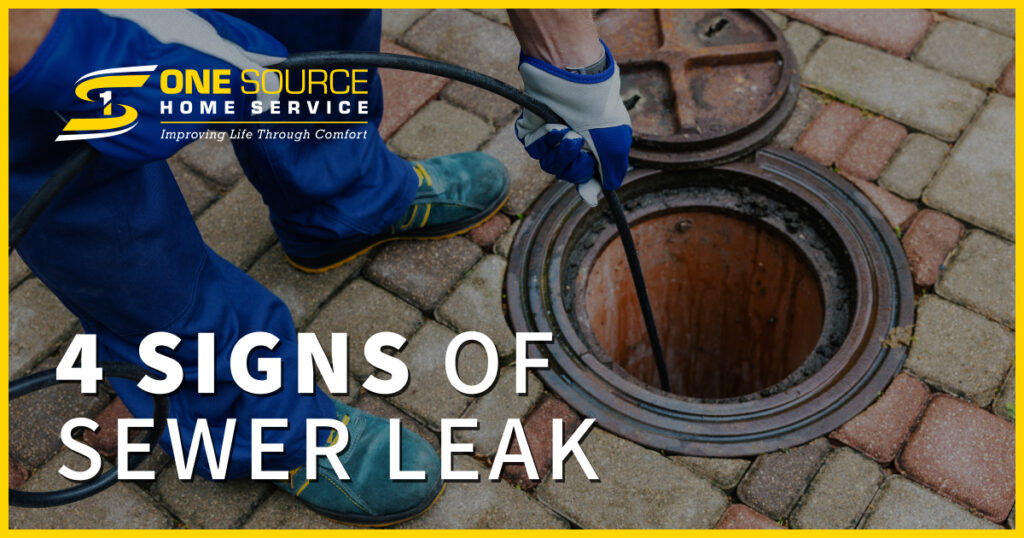 Plumbing is a great thing, but every now and then, it needs a little bit of love and repair to continue its essential work in the residential homes around Colorado Springs. While some repairs are fairly simple enough to do on your own, others will require the help of a 24 hr plumber in your area. 
As longtime experts in all things plumbing in Colorado Springs, the One Source Home Service team enjoys sharing its knowledge on plumbing topics. This article will discuss the complications of sewer leaks and how you can spot one on your property. Do you think you may have a sewer leak? Read on to learn about its top four signs. 
What Are Sewer Leaks?
The sewer system is one of the most critical components of the plumbing in your home. It is a set of pipes that are connected throughout the home that move waste out of your home and into the city's sewer channels. 
Every now and then, a sewer pipe gets damaged or clogged and develops a leak as a result. These leaks aren't always apparent right away, but if you pay close attention to your property, you will be able to discover one if it's present within minutes. 
Sewer leaks are one of the top emergency repairs in Colorado Springs. Check out our blog to learn what else counts as emergency plumbing. 
1. High Water Bills
One of the big giveaways that something is wrong with your plumbing system is increased water bills. If you have an undetected sewer leak, it can easily double your water usage and bills. Sewer leaks require water to continue their damage. Usually, by the time they are discovered, you will have already paid an unusually high amount on your water bill. 
If your water usage hasn't increased, but your bills did, we encourage you to investigate the reason for it. One of the best ways to do that is to look for a "24-hr plumber near me" on Google. Plumbers will help you narrow down that problem in mere minutes. 
2. Awful Odor
Now there is another big giveaway of a sewer leak, which is the awful smell that comes with it. The odor that comes from sewer leaks doesn't need much description as its stench is unmistakable and not easily forgettable. This stench will mostly come from bathrooms or where the sewer leak is located. Though most people won't ignore this smell, it is imperative that its cause is identified quickly with the help of a 24-hr plumber in Colorado Springs. 
3. Lush Patches of Grass 
"The grass is so much greener than usual, why would I need to call a 24-hr plumber near me?". This question is quite common among homeowners who enjoy a beautiful lawn. However, if there are spots where it is significantly more luscious than others, you may have a problem with the sewer. 
Sewer leaks emit a lot of waste, providing extra grass fertilization. It will grow healthier in the area of the leak.  For this reason, we urge you to check your plumbing system for a potential leak and even call that plumber's assistance if you're unsure of what to look for on your property. 
4. Pests
Now we know what you may be thinking, "Why are pests a reason to call a 24-hr plumber near me?". Well, pests love increased moisture; some of them, like rodents and rats, are naturally attracted to sewer smells. The longer your sewer leak goes without repair, the more pests will increase on the property. They can be a nuisance on their own, creating an unsanitary home environment.
Is your plumbing system ready for the cold, blustery winter of Colorado Springs? Read our guide on when to winterize your plumbing. 
24hr Plumber Near Me
Aside from these four signs, sewer leaks can cause issues like water damage, backflow and gurgling in the toilets, and mold. Do you think you may have a sewer leak? Don't hesitate One Source to address this problem. Our technicians are available 24/7 to help with your plumbing needs. Call us and get service today at (719) 624-0494.