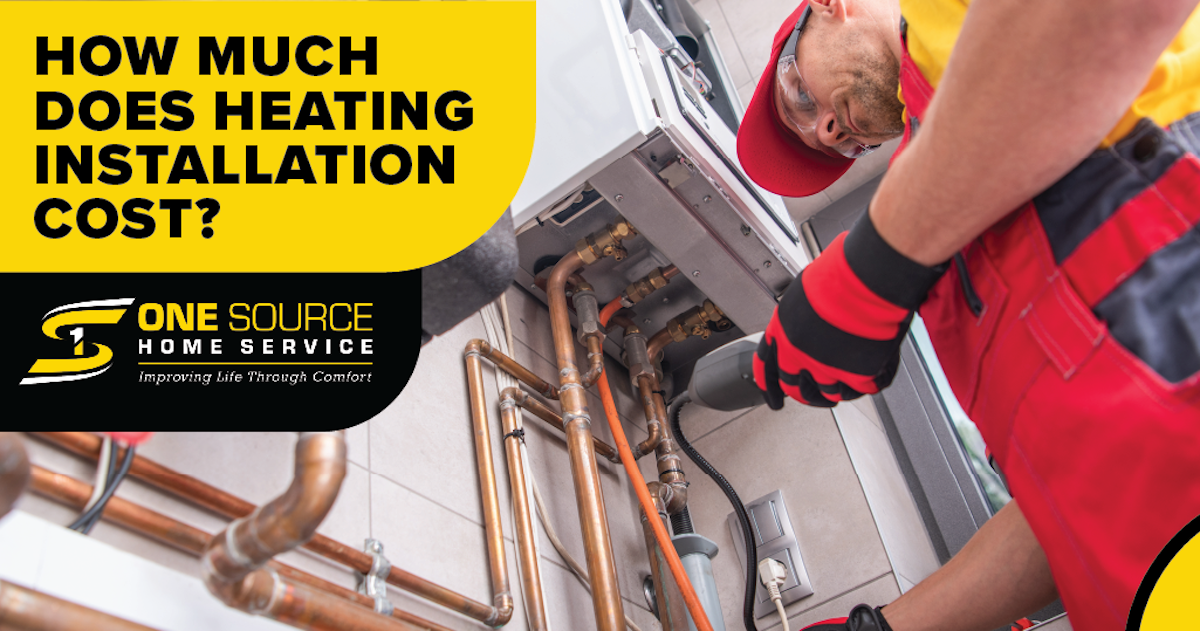 It is not news that heating installations are not cheap. It is both a purchase of the heating unit and a service provided by your local HVAC company. The cost of installing a heating system varies, but in Colorado Springs, CO there are very specific factors that make up the total price. 
While the costs are substantial, one must keep in mind that heating installation is an investment that will serve their family for decades to come. At One Source Home Services, we installed countless heating systems and know exactly how the total costs play out. We rounded up five of the factors that will play into the total cost and summarized them below. 
Equipment and Heating Components
The first major factor of heating installation costs is the equipment and components being used for the installation. What manufacturer and model will you be using for the installation? Each manufacturer and model offers certain features that drive the cost of installation.
Most importantly, their costs depend on their efficiency. Low efficiency models will cost less to install but will cost more in utility bills in the long run. Similarly, high efficiency models will cost more at initial installation. However, because they do not require more energy to provide heat in your home, they will not raise your monthly energy bills but may actually lower them. 
Another component that will drive the heating installation cost is whether your heating system is electric or gas. Gas furnaces will range between $1,300-$12,500, depending on their level of efficiency. On the other hand, electric furnaces will range between $400-$1,700, depending on the brand and size of the unit. There are various pros and cons to having an electric versus gas furnace and will also depend on how your house is already wired. 
To make the most out of your HVAC unit and save money, check out these energy saving tips. 
Heating Unit Size and Removal
Each furnace is sized according to the square footage of your home. The larger your home is, the bigger unit needs to be to accommodate all the rooms. The heating installation costs will increase with the size of the furnace. 
Additionally, if your home has an old furnace that needs to be removed, that work will require a fee as well.  Replacement of furnaces requires extra training and attention to detail. There are certain fluids and wires that special attention to ensure safe removal for the technician and your home. 
While on the subject of heaters, how do you think your water heater is performing? Check out our blog on the common signs that it's time for a water heater replacement. 
Cost of Installation 
The cost of the installation itself will vary according to the time required for installation. On average, it takes about five hours to install a furnace. If your home needs ductwork in order to install central heating, the total cost will be substantially higher than just a unit installation. Most contractors charge an hourly rate that ranges between 50-$100. 
Current HVAC System 
There are still many homes today that do not have a central heating and air conditioning system built into it. For heating installation in a home like this, ductwork will have to be mapped and installed prior to putting in the HVAC unit. This cost will vary depending on the size of your home and the time such work is required. 
Contractor Fees 
Contractor fees will play a significant role in how much you will end up paying for heating installation. It is important to ask for upfront pricing from each contractor you contact for a quote. We recommend that you get bids from at least three contractors in your area. Make sure they are licensed and insured to take on the job. The worst thing you can do is to hire someone who doesn't provide up-front pricing. Do not go into this costly work without a clear picture of the total costs beforehand. 
Call One Source Home Service Today!
Whether you need a replacement or heating installation, One Source Home Service provides the top quality service in Colorado Springs and its surrounding areas. Contact us on our website or call (719) 532-9000 to get started.