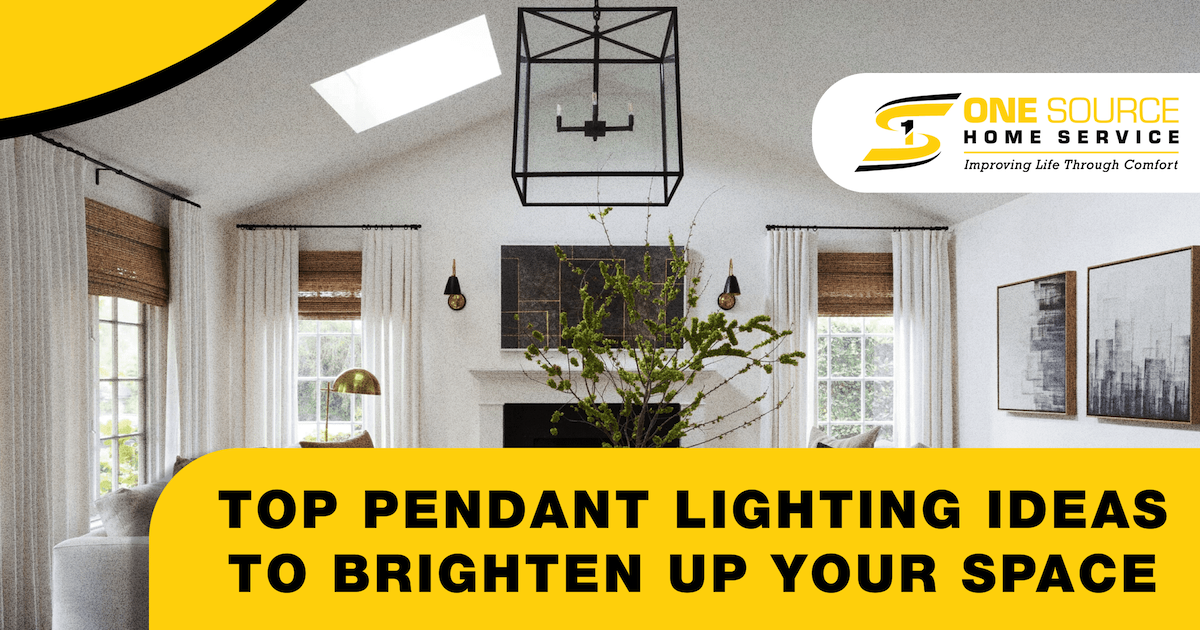 Certain elements inside your home can either make or break the style of your interior design. One of those elements is pendant lights. Many people love pendant lighting for its practicality. They add a light of light to the entire room and can effortlessly pull together the whole space. 
Interior design trends have changed greatly in 2022 as people move away from the popular minimal look of the late 2010s. We rounded up some of the hottest trends featuring the top pendant lighting ideas below. Keep reading for inspiration to brighten your space with pendant lighting. 
1. Blackened Bronze Pendant with Clear Glass Shade
The interior design trends of 2022 have seen an increased use of clear glass shading on pendants, which has good reason. This pendant lighting is excellent for the kitchen, over the island, or dining table. 
This pendant follows the industrial design style, featuring a blackened bronze chain and base. The adjustable chain connects to the dome-shaped glass shade that encases an incandescent light bulb. In addition to providing clear lighting, this pendant allows you to see the actual color of objects or food you cook.
This pendant is excellent for spaces that are already busy with other decor items to balance the look. Those who prefer a minimal approach to their interior space also enjoy this pendant for its simple but stunning appeal. 
https://www.pinterest.com/pin/5981411997432667/
2. Princes 1 – Light Single Teardrop Pendant
In 2021 and 2022, we've seen people diverting away from the white kitchen concept by adding color to their cabinetry, appliances, or lighting fixtures. This teardrop pendant is an excellent statement piece that will bring color to your space. 
Shaped in a teardrop, it is the color of aqua and has a satin nickel finish. It is excellent for kitchen pendant lighting as it will bring color without being too loud or distracting. 
https://www.pinterest.com/pin/938930222286652475/
3. Arren Black Linear 5-Light Pendant
Layered lighting has been taking on a trend of its own lately, and we couldn't be more excited. This look gives the space a modern vibe, using iron ceiling plates and black fabric cords. This particular pendant from Arren Black combines five shapes with clear glass shading, adding a sleek gracefulness to the kitchen or dining area. 
These pendants can be hung together over a table or kitchen island or scattered throughout the home. The cords are adjustable and can be customized to your preference, making light installation a breeze. 
https://www.pinterest.com/pin/AUVdGu5hoYnWMplB5BTmAFyRo3rod6D8ZW2nWwyz48RwrM_fiQly1kfaKdH0NgPo4VxjFLp-4y-XTPl3ZSyFZIA/
4. Farmhouse Chandelier by Gracie Oaks
This chandelier is right for you if you're a fan of the farmhouse style trend. This pendant is made with black metal for the base and wood metal for the lantern. The lantern encases a 4-light fixture, giving the space a warm rustic feel. This is an excellent option for those who prefer to brighten their room with warm lighting that enhances the farmhouse style. 
https://www.pinterest.com/pin/48061921297282901/
5. Hollon 1 – Light Single Dome Pendant
Another excellent way to brighten your space is to use copper in your pendant lighting. This single dome pendant from Hollon takes on a modern Victorian factory style. It will fit right into your home's current style and bring a touch of elegant minimalism. Hang this over your kitchen island, dining table, or in the corner of your reading nook. 
This pendant light solution is excellent for those who prefer customizable options in pendant installation. The height of the brass rod is adjustable, and the light is dimmable, giving you control over your lighting. This pendant provides elegant neutrality to your space and some much-needed lighting. 
https://www.pinterest.com/pin/2533343531609500/
6. Bentlee Pendant
This Bentlee Pendant from Shades of Light features smooth, sleek lines and a solid tone to its dome shape. The black domed canopy is held in a brass encasing that adds the perfect touch of sophistication. This pendant is ideal for a modern, Scandinavian, or industrial style of decor in your home. 
This pendant will add a bold statement to the room without being too overpowering and distracting. While the black and brass color combination is sleek and elegant, it also comes in other gorgeous varieties such as brass and white, chrome and white, and chrome and black. 
https://www.pinterest.com/pin/849913760930305490/
7. Oval Reeded Glass Pendant Light
Those who love a pop of color in their space will appreciate this oval-reeded glass pendant. It comes in amber, black, and our favorite, dusty green. The oval shade is held by a sphere-shaped base that can be either solid black or brass. 
This pendant mixes well with a natural wood style in the home. It will pull together wood textures and plants, simultaneously adding a touch of elegance and simplicity. It is an excellent pendant lighting option for the kitchen, dining area, or living room. 
https://www.pinterest.com/pin/952089177446643350/
8. Rattan Green Oaks Pendant
There is a lot to be said about using rattan in interior design. This woven pendant features a very natural color. It is an excellent statement piece for areas that stay white or neutral. It adds an element of coziness to bedrooms and living rooms with taupe or gray furniture. It will also go well in homes with many indoor plants scattered throughout, emphasizing the natural and calming feel of the house. 
https://www.pinterest.com/pin/475692779403279089/