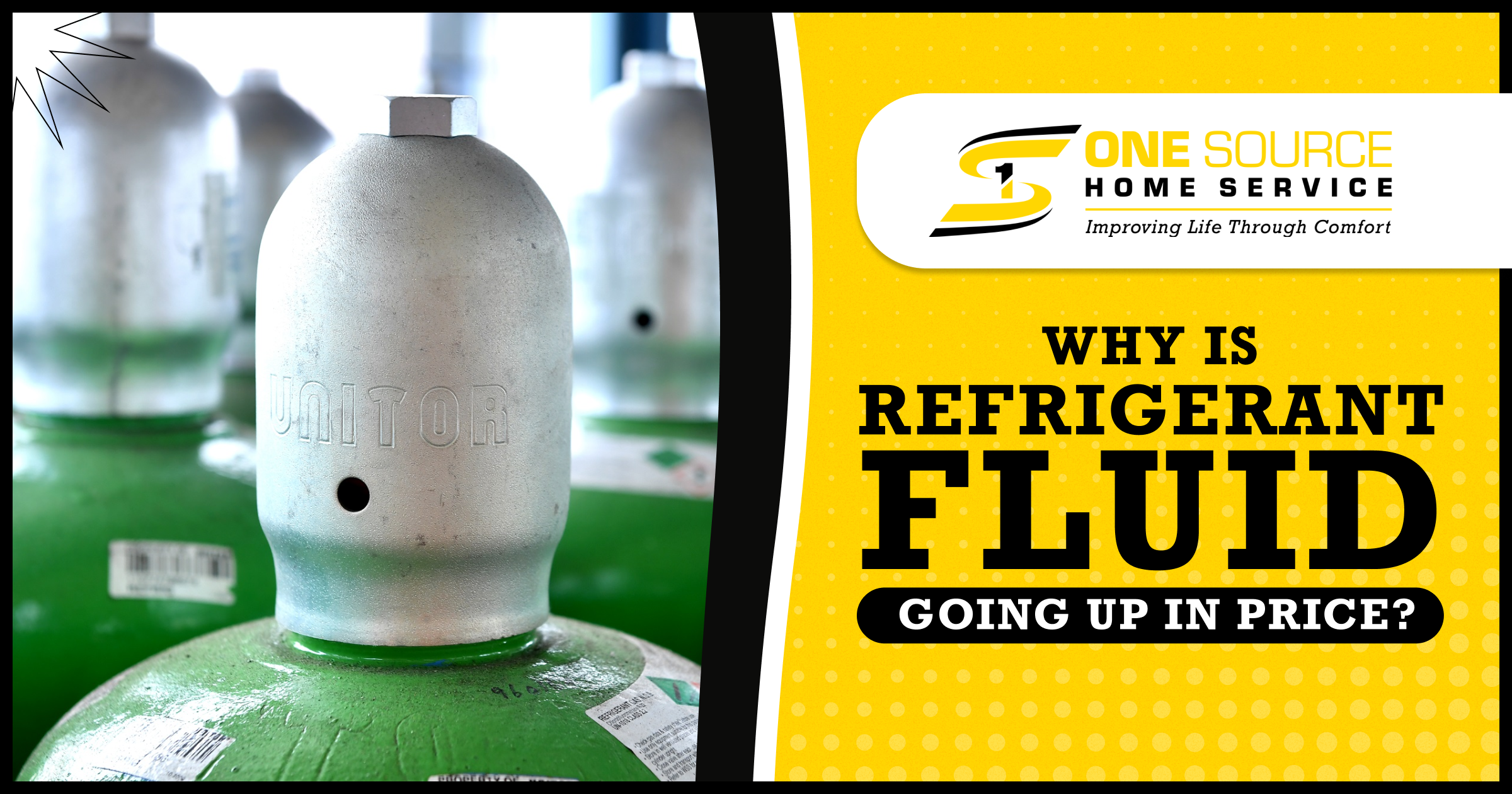 Refrigerant fluid is a component that many air conditioning and refrigerating systems cannot do without. It plays a crucial role in the cooling process, and its price is crucial in determining the overall cost of running these systems. In recent years, refrigerant fluid prices have been rising, which has raised concerns among consumers and businesses alike. As the top AC repair techs in Colorado Springs, we at One Source Home Service have been watching these trends for the last few years. In this article, we will discuss the reasons for the rise in refrigerant fluid prices.
Reasons for Increase of Refrigerant fluid Prices
Shortage of Supply 
One of the primary reasons for this rise in refrigerant fluid prices is the shortage of supply. This can be attributed to a number of factors, including increased demand, production, shutdowns, and natural disasters. 
The main culprit of this shortage is the phaseout of R410A, a form of refrigerant fluid that has been banned for production or importation in the United States. Although it is banned, the demand for refrigerant stays the same and the supply struggles to keep up. This has resulted in higher prices for consumers and businesses alike, including AC repair in Colorado Springs.
Increased Production Costs
Another reason for the rise in refrigerant prices is the increased cost of production for the refrigerant fluid "R-454b," which is now being used in lieu of R-22 and R410a. Refrigerant production involves complex processes that require expensive equipment and specialized expertise. The rising cost of raw materials and energy has also contributed to the increase in production costs. This in turn has led to higher prices.
Regulations
The refrigerant and HVAC industries are both heavily regulated, and this has had a significant impact on prices. Governments around the world have implemented policies aimed at reducing greenhouse gas emissions, and refrigerants are often targeted in these efforts. The regulations have resulted in a reduction of supply, which has contributed to the increase in prices. Thus, you may run into ever increasing prices on refrigerant fluid services provided by AC repair techs in Colorado Springs. Those prices are not charged simply for the sake of the AC company; there is a real need and competition for the existing refrigerant fluid supply.
Government regulations play a big role in the cost of HVAC supplies and equipment. Check out our blog to learn about the key regulations surrounding HVAC units in respect to the new SEER2 update. 
Increased Import Costs
Another factor that has contributed to the rise in refrigerant fluid prices is the increased cost of imports. Those refrigerant fluids that are still being used are in high demand. Due to this high demand, more and more countries are importing refrigerants to meet their needs. However, the increased cost of transportation and tariffs has contributed to the rise in prices for consumers and businesses alike.
Increased Demand for Natural Refrigerants
As people make the transition from the old version of the refrigerant fluid, R410a, the demand for natural refrigerant continues to increase each year. Many people have already made the switch to natural refrigerants, such as propane and ammonia. These refrigerant fluids are considered to be more environmentally friendly than synthetic refrigerants, and are increasingly being used in air conditioning and refrigeration systems. The increased demand for natural refrigerants has driven prices, as the supply has struggled to keep up with the demand. 
AC Repair in Colorado Springs
The refrigerant fluid prices continue to rise, it is important to remember that refrigerants are a crucial component in many air conditioning systems. The increased cost is often outweighed by the benefits these air conditioning systems provide. 

Plus, many great air conditioning repair companies such as One Source Home Services offer high quality services at a price that you can afford. If you are in need of AC repair in Colorado Springs, do not hesitate to reach out to one of our technicians who will be able to assist you in restoring the comfort of your home. Give us a call at (719) 751-5366.