Air Conditioning Repair in Colorado Springs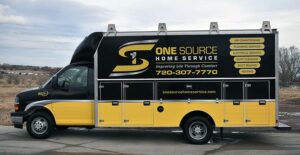 Are you in need of air conditioning repair in Colorado Springs? Are you running searches for terms like "air conditioning repair near me" or "air conditioning contractor near me" but you're still not sure who to call?
Then you've come to the right place!
At One Source Home Service, we offer air conditioning repair service in Colorado Springs and we have many satisfied customers in the area. Call us today to get your AC repair ASAP.
Should I Call For AC Repair?
Not sure if it's time to search for "air conditioning repair service near me"? Here are some indications that your AC could use some TLC.
Your air conditioner won't turn on or is stuck on and won't shut off.
Your air conditioner turns on and off so quickly that it can't cool your home effectively.
Your air conditioner makes unusual sounds, like clanging, banging, screeching, or anything else that you've never heard before.
Your air conditioner doesn't seem to work differently when you change the settings on your thermostat.
Your air conditioner is blowing hot or lukewarm air.
You are hot at home even when your air conditioner seems to be working normally.
If you experience any of these problems, call us at One Source for air conditioning repair in Colorado Springs or the surrounding areas.
Working With One Source on Your Air Conditioning Repair
We are your air conditioning contractor in Colorado Springs for all of your AC repair needs. Call today and we'll have a skilled AC technician to your door fast! Before you know it, we'll have diagnosed your problem and found the solution that will work best for you. We'll work hard until everything is repaired and you are comfortable at home once again.
You can rely on us for all of your AC needs. In addition to AC repair, we can also do your air conditioning installation and air conditioning maintenance in Colorado Springs. No matter what you need for your AC, call us to make an appointment today!