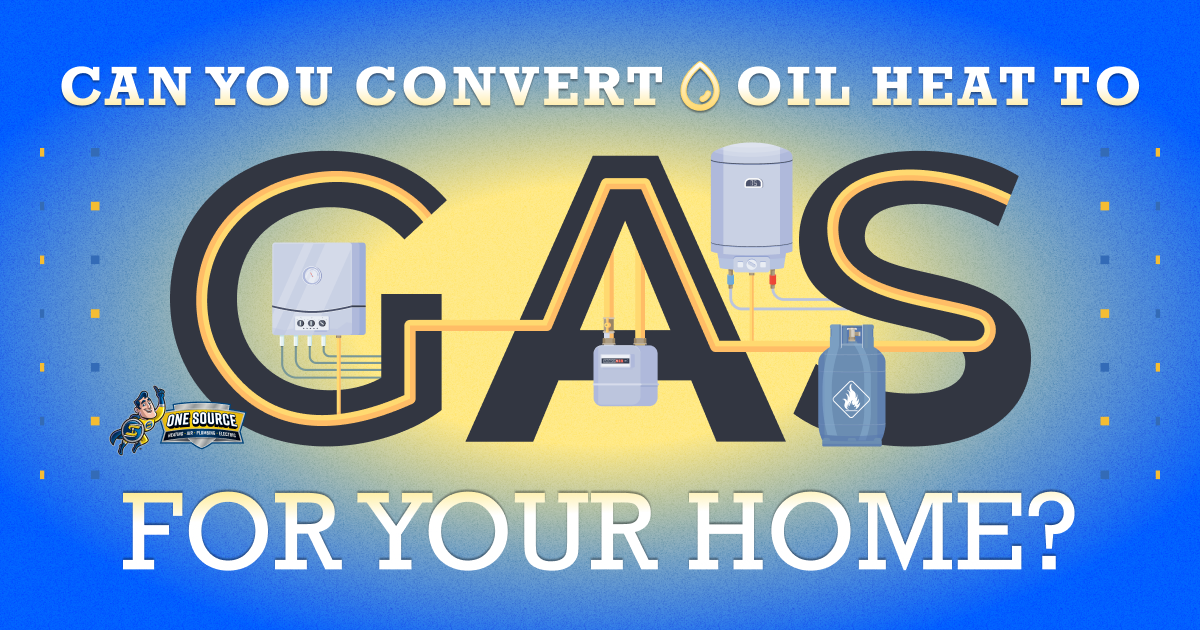 There are times when every homeowner must make critical decisions regarding the replacement of their home heating system. One of these decisions includes choosing whether to convert from oil heat to natural gas. This blog will explore the reasons behind this transition and provide you with a detailed guide on how this process typically happens. Converting to natural gas can offer numerous benefits, both financially and environmentally. Understanding the process can help you make an informed decision.
Factors That Determine Oil-to-Gas Conversion is Practical
One of the first things homeowners must consider when converting from an oil to gas heating system is weather. It is practical for them in the first place. Even though doing so has many benefits, it may not be feasible for everyone. Below are the factors determining whether your home qualifies for this conversion.
Availability of Natural Gas
Since you will need gas for this conversion, natural gas must be available in your area. Start by checking if natural gas is available for a structure. If not, the cost of extending gas lines to your home may be very high. In other cases, it may not even be possible to add those gas lines. 
Existing Heating System and Infrastructure
the condition and age of your heating system can influence the cost and complexity of the conversion. If your oil heating system is relatively new and in good condition, the return on investment for conversion may be lower. If the heating system is old, you may have to pay for replacing the heating unit and the conversion costs.
Costs and Return on Investment
You must determine the costs of converting to natural gas, including equipment and installation expenses. Take the time to calculate the potential return on investment, and consider long-term energy savings and available incentives. Also, consider the value this conversion will bring to your property; if the property value increases significantly, you may make a significant profit on your home sale.
Why Do People Consider Converting Oil Heat to Gas?
Though the work and the cost of converting oil heat to gas may be significant, the benefits are pretty compelling. Below are some top reasons homeowners convert from oil to natural gas.
Cost Savings
Natural gas is often more cost-effective than oil, with lower per-unit energy costs. Installing a natural gas heating system can result in long-term savings and energy bills. Additionally, programs are always available that offer rebates and incentives from utility companies and government agencies, which can reduce conversion costs. 
Environmental Considerations
Taking care of the planet should always be a priority, and natural gas is a cleaner, burning fuel, producing fewer carbon emissions and air pollutants than oil.  Reducing your carbon footprint can contribute to environmental sustainability and lower greenhouse gas emissions.
Convenience and Reliability
Another reason for converting to gas is because it's convenient and reliable. Natural gas is delivered to pipelines, eliminating the need for on-site fuel storage and oil deliveries. You won't need to worry about running out of fuel during the heating season, as the natural gas supply is continuous.
How to Convert to Natural Gas
If converting to natural gas is an option for you, you may be wondering about the process and all that is involved in making it happen. This is a fairly lengthy process that will require a series of steps to make the transition possible:
1. Research and Choose a Natural Gas Provider
First, identify natural gas providers in your area and compare their pricing. Research the services that they offer and take the time to read customer reviews.
2. Hire a Licensed Contractor
You will also need to find a qualified HVAC contractor with experience in natural gas system installations. Take the time to obtain multiple quotes from the contractors in your area and ensure that the contractor is licensed and insured. 
Some of the best HVAC contractors in Colorado Springs are at One Source Home Service. You will never go wrong with hiring one of our team members for your natural gas conversion.
3. Remove or Convert the Oil Heating System
With the help of an HVAC technician, the old oil heating system will need to be disconnected and removed. It must also be disposed of appropriately to ensure it doesn't cause any environmental or safety hazards.
4. Install the Natural Gas Equipment 
Your HVAC contractor will take the time to install the new natural gas heating equipment, including a furnace or boiler and the necessary venting and distribution systems. It is important to have an HVAC contractor on hand for this portion of the process because they will help ensure that the installation is compliant with local building codes and safety regulations.
5. Ensure Safety and Compliance with Local Regulations
what's the installation has been performed, you will need to schedule an inspection by local authorities or utility representatives to verify that the installation complies with safety and code requirements. They will properly test and commission the natural gas system to ensure it operates safely and efficiently.
FAQ: Other Common Fuel Conversions
Is it worth buying a house with oil heat?
Yes. Heating your home with oil is safe and affordable. Oil-fueled heating systems last a long time and thus uphold the value of the home. 
Is natural gas better than oil?
Natural gas is better than oil because it is supplied continuously and is better for the environment. 
Is gas cheaper than oil?
Gas is cheaper than oil because its supply and efficiency are far more stable and consistent than oil. 
Can you convert an oil furnace to propane?
Yes. Converting from an oil furnace to propane will involve many of the same steps as converting from oil to gas.
Can you convert a boiler to propane?
Yes. Converting from a boiler to propane will involve many of the same steps as converting from oil to gas.
First Class Heating Services in Colorado Springs, CO
Are you exploring your heating options in Colorado Springs? Whether you need an oil-to-gas conversion, a simple heating system installation, repair, or maintenance service, you can get it all at One Source Home Service. Contact us to get in touch with our heating experts today.